Wrong-way crash driver arrested on pot charges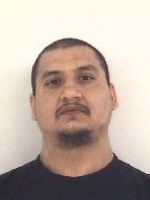 Police say that a wrong-way crash on U.S. 31 yesterday morning led to the driver's arrest on drug charges.
According to the Columbus Police Department, witnesses reported a driver heading the wrong way in the southbound lanes of the highway near 25th Street and National Road at about 7:55 a.m. Thursday morning. Moments later, the driver crashed into trees near the intersection with Beam Road. Officers arrived and met the driver, 29-year-old Tomas Soria of Columbus, who had to climb out of the passenger door of his truck due to damage from the crash.
Soria had bloodshot eyes and left a strong scent of marijuana. Police say that Soria admitted to the officers that he had smoked marijuana about a half hour earlier. A search of his vehicle recovered marijuana and drug paraphernalia.
After field sobriety tests, Soria was taken to Columbus Regional Hospital to have his blood drawn. He was then arrested on charges of operating a vehicle under the influence of drugs and for possessing the marijuana and drug paraphernalia.