New mayor announces administration director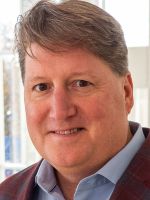 Columbus Mayor-Elect Mary Ferdon has named her successor as the city's executive director of administration, choosing Eric Frey, currently executive director of Administrative Resources association.
Frey has been with the association since 1994 and head of the group since 2001. ARa is a municipal owned group that assists in finding funding and managing more than $200 million in projects in 16 southeastern Indiana communities.
In the new role, Frey will oversee multiple city departments, and initiatives such as the city's involvement in Mental Health Matters, ASAP, housing initiatives, and more.
He has served as a volunteer on multiple boards and commissions and is the current chair of the Columbus Housing Authority board of directors. Frey graduated from Indiana University School of Public and Environmental Affairs and worked in county and state government before his position with the association.
Frey will take over the city position on Jan. 1 when Ferdon's administration takes office.