New athletic director announced for Columbus North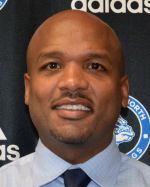 A new athletic director has been chosen for Columbus North High School. 40-year-old Brian Lewis is set to take the position, according to North principal David Clark.
Lewis will succeed Jeff Hester as Columbus North athletic director. Hester accepted a position as assistant athletic director at Carmel in May.
Lewis is an Indiana University graduate and has been assistant athletic director at Mary Institute & Country Day School. That is an independent private school that serves about 1,250 students from pre-kindergarten through high school in St. Louis, Missouri. He started at the school in 2012 and has served as assistant football coach, a middles school physical education teacher and director of summer sports camps in addition to his duties as an assistant athletic director.
While Lewis was with the school, teams captured 12 Missouri State High School Activities Association state championships including titles in boys tennis, boys golf, girls golf, girls track, baseball and cross country.
Lewis earned his bachelors degree in kinesiology from IU and earned a masters degree in athletic administration from William Woods University in 2017. While at IU, Lewis was a member of the Hoosiers football program for five years. He served as a team captain for the 2003 Hoosiers.
Lewis wife, Emily, is from Indiana. The couple have two children.
Lewis' hiring will not be official until it is approved by the Bartholomew Consolidated School Board, which is set to consider the hire on July 20.