North Vernon man accused of threatening woman with knife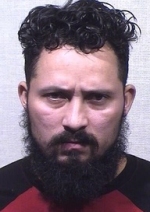 A North Vernon man is facing charges after allegedly holding a knife to a woman's throat in an incident at the Seymour Wal-Mart Distribution Center over the weekend.
According to Seymour Police reports, officers were called to the center on Tipton Street on Saturday. A supervisor told police that a male employee had grabbed a female employee's necklace, ripped it off and said he was going to kill her. He then held a knife to her throat.
Police say that the two employees used to be in a relationship and the victim claimed the suspect continues to harass, follow and threaten her. Investigators interviewed the suspect, 33-year-old Jose Arnaldo Membreno Montes of North Vernon, who told police that he was jealous and said he did hold a knife to the victim's throat.
He was arrested and the Jackson County Prosecutor's office is filing charges of intimidation with a deadly weapon and battery with a deadly weapon. He is also being charged with forgery and identity deception when it was discovered that he was working at the center under someone else's name.