Jailed suspect tied to more Jennings County home burglaries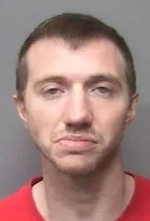 Jennings County deputies say that they have solved another home burglary, tied to an arrest made earlier in the month.
On January 5th, deputies began investigating after a homeowner in the 4000 block of North State Road 7 reported about $2 thousand dollars worth of tools stolen from their garage, as well as damage to the garage and a vehicle. Later that night, the homeowner reported to deputies that several of the stolen items had shown up on Facebook Marketplace.
A deputy realized that they had dealt with the suspect before in a previous investigation and scheduled a meeting with 28-year-old Ricky McLaughlin of Greenfield on Saturday. Several of the stolen items were recovered and McLaughlin was arrested on charges of burglary, criminal mischief, unlawful entry into a motor vehicle and possession of marijuana.
Several other vehicles had been broken into during the same time frame and after an interview with McLaughlin in the jail this week, he admitted to a second burglary and items reportedly taken in that burglary in the 9500 block of North State Road 7 were also recovered. He will be facing new charges related to that stolen property.