Flatrock woman arrested after home break-in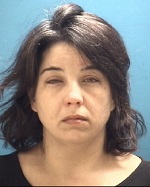 Deputies arrested a woman allegedly breaking into a home in Bartholomew County.
According to reports from the sheriff's department, deputies were called to a burglary in progress at about 12:45 this morning in the 5100 block of North County Road 200W.
A victim reported that a woman approached the residence and removed a video doorbell, then went to be back of the home and removed a second video doorbell at the rear door.
As deputies arrived, 39-year-old Crystal Shaw of Flatrock was leaving in a pickup truck. She was taken into custody and a search found several items taken from the property along with damage to the rear door.
Shaw was arrested on on preliminary charges of burglary, criminal mischief, possession of drug-related paraphernalia and an outstanding warrant.
Photo courtesy of Bartholomew County Sheriff's Department.