Driver convicted in student's death at stopped bus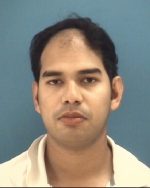 A driver accused of killing a student after passing a stopped bus is now convicted.
After six hours of deliberating, a jury found Shankara Subramanian guilty yesterday. He was facing felony charges of leaving the scene of an accident resulting in death or catastrophic injury and passing a school bus when a stop arm is extended causing death
In August of last year, Subramanian went around a school bus, hitting and killing 16-year-old Lily Streeval, a Columbus East High School student.
According to reports from the Bartholomew County Sheriff's Department at the time, the crash happened at just before 7 on a Monday morning in the 1900 block of South Gladstone Avenue. The bus was stopped with its stop arms extended, and Streeval was attempting to cross the road to get on the school bus. That's when Subramanian ignored the stop arms, passed the bus and hit the girl.
Subramanian fled the scene and was followed by a witness before getting stuck in a yard on County Road 250E, where he was taken into custody.
He's set for sentencing on October 27th.
Our news-gathering partners at TTWN Media Networks Inc. contributed to this report.